Funders Collaboration Group: Service Design Special
To kick off our Summer of Service Design, our June Funders Collaboration Group (FCG) session focused on all things Service Design. The FCG provides a platform for funders to join together to discuss common issues and tackle problems together.
We wanted to give the group the opportunity to find out a bit more about how Service Design could help them and their users. We also helped to explore concerns or barriers that could prevent organisations from implementing Service Design practices. Levels of experience and understanding of Service Design techniques and their benefits varied amongst the group, which highlighted just how important it is that we continue to provide this platform for sharing.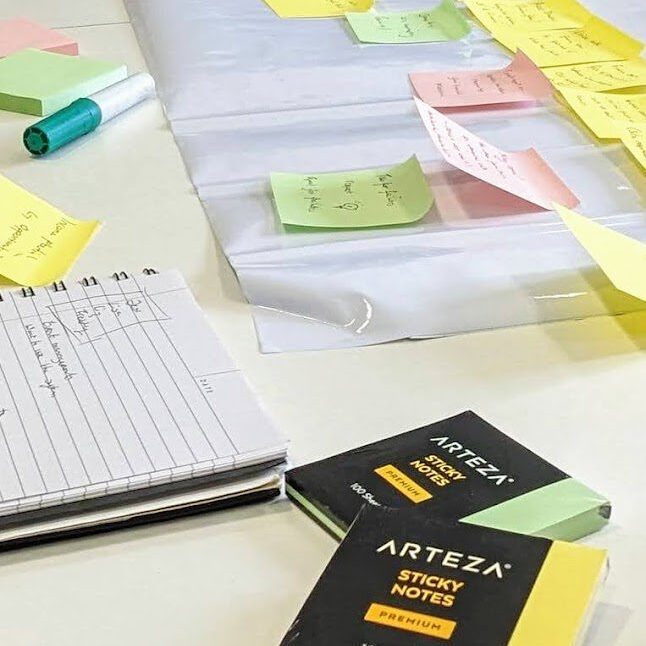 Eight Tips to Effectively Introduce Service Design
Discussions let us uncover eight key tips to effectively introduce Service Design in your organisation:
1. Take a holistic approach
Consider who's involved: those delivering the service, those receiving it, and anyone else who has a stake in the service. Think about how you work, what data you work with, and what tools, technology and systems are involved.
---
2. Get the right people in the room
Stakeholder mapping can help overcome this. For example, Finance colleagues are often an afterthought! Ensure that you have good representation from each area with a vested interest. And don't forget your data teams!
---
3. Stakeholder engagement is challenging, but worth it!
Different groups of individuals will have conflicting priorities and ideas for solutions. If not managed carefully, this cause focus to be lost! What's the best way of agreeing something that will work for everyone when you have different needs being described? Techniques such as "visioning workshops" with all stakeholders can help to get everyone on the same page.
---
4. Agree priorities
When you can't get agreement on what should be prioritised, techniques such as MoSCoW are a great place to start. You can continue to revisit with stakeholders to reprioritise agreed tasks and actions.
---
5. Plan ahead
Sometimes Service Design just happens too late, once the key decisions have already been made. Start to think now about what you want in the next financial year, and get service designers involved as early as possible.
---
6. Break down barriers with transparency
Share a board, spreadsheet, issue register or tracker that's visible to all stakeholders. Show them that you're not hiding anything, and that you want engagement from everyone.
---
7. Break down the tasks
A 'job atlas' helps to make tasks manageable and relatable. What jobs need to be accomplished to get this grant out the door? This leads to the individual user journey/stories, and is technology-agnostic.
---
8. Ask challenging questions to challenge thinking
Put the user first. Do you want to put up with the pain in this process? What's the cost of doing this wrong? What would make things easier and change people's lives?
---
We also discussed the benefits that our customers' grantees could realise through adopting Service Design practices, or by bringing in outside support if resources are an issue. Funders expressed an interest in supporting grantees to do this in the future, and could see how this could let funds be used more effectively and help their grantees to become more self-sufficient.
This session has really helped us at Hyphen8 to better understand the challenges our clients face. Not only in adopting Service Design techniques, but also in recognising the need for Service Design and planning appropriately. If you work in a non-profit, and you think it might be the right time to start thinking about Service Design, get in touch to see how we can help.